The 13th Mona Foma is making a virtue of necessity, billing itself as a "year to celebrate the local" with "more intimate experiences and smaller capacities than previous years". It's somehow making health restrictions cool, staging exhibitions and performances (even more than it usually does) in the open air and in more than 58 often unconventional venues.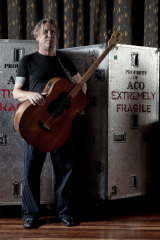 The festival, which moved to Launceston three years ago, in 2021 runs over two weekends in Launceston and then Hobart. They expect mainland visitors may make it a road trip, and locals will travel north or south.
"In the planning stage, we couldn't assume there would be very many interstate or international visitors," says Ritchie. "We knew we were going to be programming for the Tasmanian internal market and anything else would be gravy – it will be more like the earlier years when we were still gaining a reputation.
"Then we realised it would be smarter to split between the two cities in case of an outbreak. It had to be precautionary thinking, highly speculative. We have no way of predicting what the situation will be."
The festival has made good use of Launceston's remarkable Cataract Gorge in the past. This year they knew they couldn't have massed performers and audiences, so they commissioned Melbourne artist Robin Fox to create Aqua Luma, a bespoke installation of huge water jets struck by lasers, over an electronic composition beamed via patrons' smartphones (beefed up with subwoofers). Fox conceived the work in lockdown but his familiarity with the site (he is a Mona Foma veteran) made it possible to create it remotely.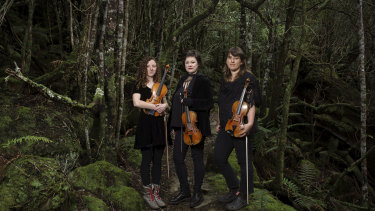 Meanwhile, up above the gorge's chairlift will sing out a work created by the Melbourne Electronic Sound Studio and composed on rare analogue synthesisers, the sound merging and Doppler-ing as the chairs on the ride move towards and away from each other.
The emphasis on "non-performing" artists was deliberate, to minimise the risk posed by potential border closures, travel bans and venue limits.
Says Ritchie: "The main thing we were determined to achieve was to actually do something."
Not all events are 2021-specific. Judith's Return, a world-premiere opera created by a former Sydney prison parole officer, based on experiences of incarceration at Bialoleka prison in Poland, has been six years in the making.
But, chuckles Ritchie drily, even that has "an unintended appropriate theme for this year", with many of us experiencing a form of coronavirus lockdown.
The same goes for Beckett's 1960s superbly grim play Happy Days, to be performed "in the wild" around the two cities: a play where one of the characters is partly buried in the ground.
Ritchie has many more acts he wants to mention: music from Augie March's Glen Richards, and Luca Brasi, and a trumpet player performing in the church where his father used to be the minister.
They've designed colourful social distancing mats for concerts in Launceston's Royal Park, each holding eight people.
"Everyone will be on their own little island," says Ritchie.
Nick Miller is Arts Editor of The Age. He was previously The Age and The Sydney Morning Herald's European correspondent.